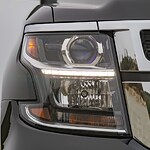 When it comes to a full-size SUV, the Chevrolet Tahoe continues to be one of the more comfortable and well-built on the market. You will find that this is an SUV that can do so much for you and your family. It is a great vehicle to drive around Caldwell in, while you will also find that it provides more than enough space to take your belongings with you on an out of town trip.
One of the more noticeable design features on the Chevrolet Tahoe is the signature grille. This is unique and really sets the front of the SUV apart. You will not find other vehicles in its class with anything quite like it.
There are also the 22-inch wheels that you will love. These come with all-season tires and include wheel locks. You can drive virtually anywhere with these.