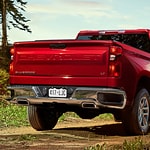 People know Chevrolet about the performance of all their vehicles. Those in Caldwell have seen the Chevrolet Silverado around and know how popular they are. There are many performance features that people need to know about before deciding. A person can handle loads and towing in style with these trucks.
The owner of a Chevrolet Silverado does not need to worry about most weather or terrain with the 4WD. The 6.2L V8 is able to keep the truck going, even when the 4WD is in use. Tow 12,500 lbs when that is necessary. Few tasks will ever be a problem.
When looking for a pickup that can handle needs for fun or work, come by Caldwell Country Chevrolet. The Silverado has the performance features that will make tasks easier. The motor is just the start of power in this truck.