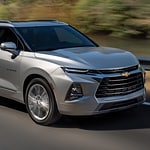 At Caldwell Country Chevrolet, our team is ready to show off the top technology features of the Chevrolet Blazer! If you are looking for a reliable SUV with connectivity and technology features for you and your passengers, the Blazer will surely deliver.
Consider the Blazer if you like having your vehicle and home connected to your Amazon Alexa service. Control your connected home from the Chevrolet Blazer! You can also access your account via voice to check on previous orders or make a new one as you drive! Access Amazon Music with Alexa and listen to your playlist while you run errands.
Passengers that need to stay connected to their laptops, tablets, or smartphones will love the Chevrolet Blazer! The available 4G LTE WiFi is integrated into the Blazer to make sure that everyone can stay entertained or working while you drive. This top feature is great for families that love road trips!